Arts
Back to the Garden
The Cleveland Museum of Art features works by Claude Monet and more in a wide-ranging exhibition.
November 2015 Issue
BY Linda Feagler | Art courtesy of Cleveland Museum of Art
November 2015 Issue
BY Linda Feagler | Art courtesy of Cleveland Museum of Art
Planted among the 107 works showcased in "Painting the Modern Garden: Monet to Matisse" are a few scenes that seem out of place amid all the tranquility.

But William Robinson, the Cleveland Museum of Art's curator of modern European art, quickly counters any skepticism proffered by viewers.

"I did have to justify to my colleagues why I wanted to include some of these," Robinson admits, citing his selection of Edvard Munch's sinister depiction of "Jealousy in the Garden," as one that raised a few eyebrows.

His curatorial associates understood that paintings by impressionists clearly belonged. But, Robinson explains, they also said, "Matisse wasn't a gardener, and neither was Munch. But yes, they were. Artists belonging to many different art movements used gardens in very interesting ways in their paintings. That was a big surprise to me, and I think it will be a big surprise to all who see the exhibition."

Clearly, Claude Monet's work is at the heart of "Painting the Modern Garden," on exhibit at the Cleveland Museum of Art through Jan. 5.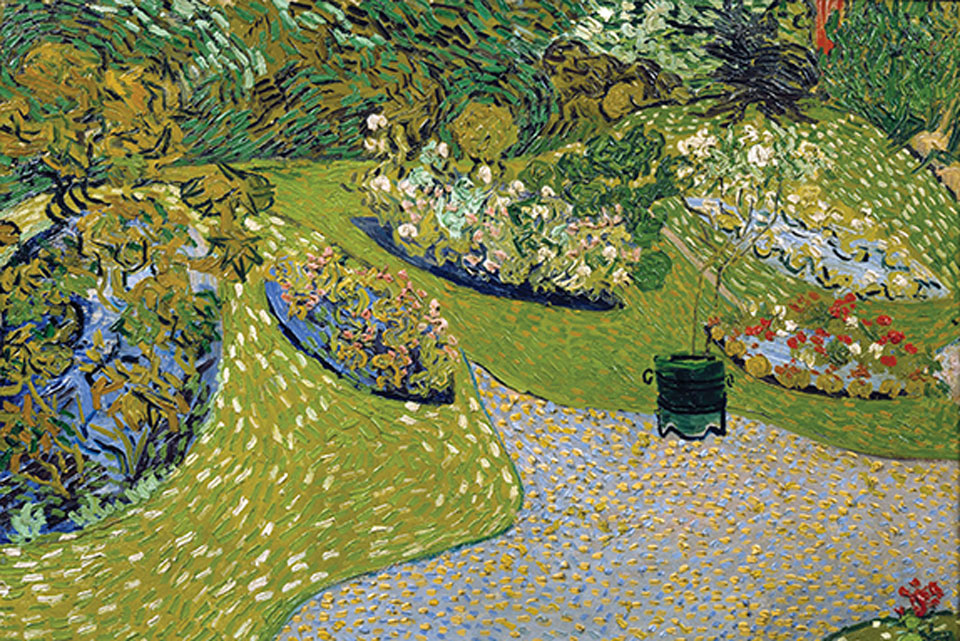 In fact, it was the opportunity to collaborate with the St. Louis Art Museum and the Nelson-Atkins Museum of Art in Kansas City, Missouri, that led to the show. The institutions agreed to lend the two large water lily paintings that are companions to the one the Cleveland Museum of Art owns.

"Monet originally painted the triptych for installation in a building in Paris, but the project fell apart for financial reasons," Robinson explains. "He kept the paintings in his studio until his death, and they remained with his family until they were disbursed in the 1950s to American museums."

Research on the triptych prompted Robinson to begin thinking about the artist's lifelong passion for gardening and its relationship to his paintings.

"Monet is the touchstone for the exhibition," he adds, "and arguably the greatest painter of gardens in the history of art."

From Biblical times on, gardens have served as a wellspring for artistic inspiration. According to Robinson, the earliest surviving images of gardens, which date from 3000 to 2000 B.C., appear in Egyptian relief sculptures, fresco paintings and miniature models placed in tombs.

But it was Monet who elevated them to iconic status by filling his monumental canvases with odes to nature that included weeping willows, sunflowers, irises, chrysanthemums, peonies — and the trio of water lily paintings, which have not been displayed together at the Cleveland Museum of Art for three decades.

"The late 19th century was a period of great innovation in many disciplines, one of which was horticulture," Robinson explains. "Europeans were importing flowers from around the world — from the Americas, Africa, Asia — and breeding new hybrids. As a result, a revolution in gardening was taking place with the creation of larger blooms with intense hues."

And it was only natural for painters to be avid participants. Always searching for new subjects, they were at the forefront of designing and planting colorful plots right in their own backyards.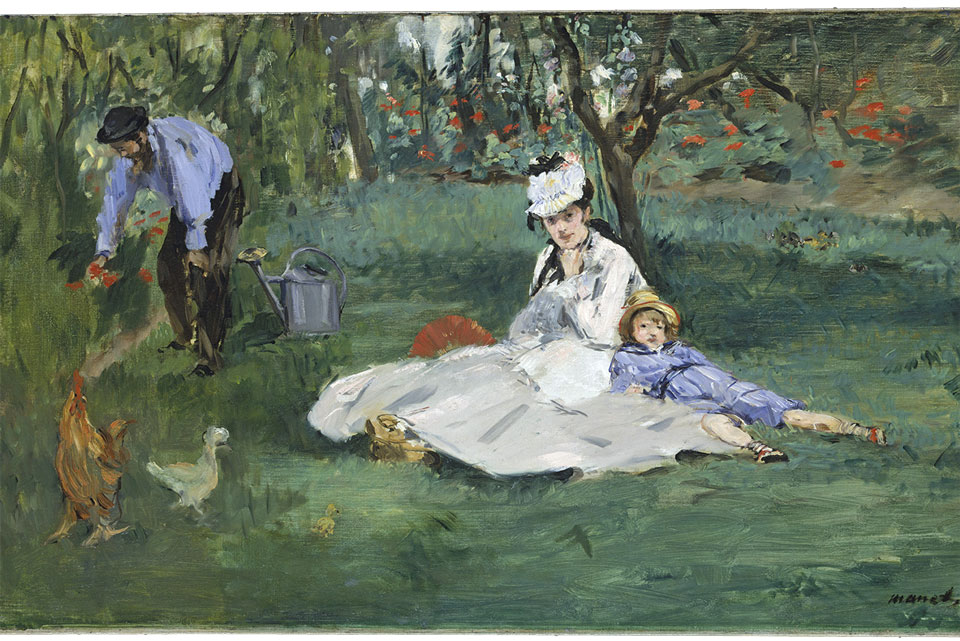 "Monet once said, 'I am good at only two things, and they are gardening and painting,' '' says Robinson. "But other artists were also passionate. A key point for our exhibition lies in the very close relationship between their gardening and their painting."

As the exhibition attests, the fruits of Monet's green thumb influenced fellow impressionists. In 1873, Pierre-Auguste Renoir was staying with Monet and his family in Argenteuil, an artistic community northwest of Paris. Adhering to the principles of impressionism, both men worked outside.

In "Monet Painting in His Garden at Argenteuil," which is included in the Cleveland Museum of Art exhibition, Renoir portrays his friend painting the dahlias in his own garden. As Monet brandishes a brush in his right hand and a palette in his left, he scrutinizes the canvas in front of him, deliberating what and where his next stroke will be.

"Although Monet and Renoir painted in similar styles, they had very different attitudes toward gardens," says Robinson, citing Renoir's 1876 oil, "The Garden in the Rue Cortot, Montmartre," as reflective of the artist's penchant for nature in its wildest forms.

"Without looking at the painting's title, you would probably not guess the subject," the curator says, "because it does not look like a conventional garden. Unlike Monet, who very consciously organized flowers and created precise gravel beds in his work, Renoir was the total opposite. He was a very traditional guy who really didn't like the modern world. So he depicted nature as being untamed."

In 1874, Edouard Manet was vacationing at his family's house in Gennevilliers, just across the Seine from Monet's home. The artists saw each other often that summer, and their friendship served as the catalyst for Manet's impressionist painting, "The Monet Family in Their Garden at Argenteuil." The work, which depicts Monet's wife, Camille, and their son Jean, is featured in the Cleveland exhibition.

As the 20th century progressed, Robinson explains, placid images gave way to thought-provoking works reflecting the way the world was perceived. Swiss artist Paul Klee, known for his experiments with light and color, worked as a clerk for the German army and painted camouflage on airplanes during World War I. His 1919 watercolor, "Death in the Garden," exemplifies the abstract use of shapes he was known for — as well as his reaction to loss on the battlefield. And, Robinson adds, it is Munch's evocative artistry in conveying shifting attitudes that earned his 1930 work, "Jealousy in the Garden," a rightful place in the Cleveland Museum of Art show.

"It is one of the artist's commentaries on contradictions and anxieties of modern society," the curator says. "A man in the foreground with a yellow face has his back to a couple in the background. There's obviously some antagonism here — [an emotion] associated with feelings of guilt and shame that came into the modern world after the fall from paradise in the Garden of Eden."

Robinson hopes visitors to the exhibition will discover new pathways from which to see the garden theme as multifaceted and universal.

"People don't think the subject of gardens is a modern subject. They see it as more traditional art that has served as a backdrop for other scenes," he says. "But in these paintings, the garden assumes a new importance. It becomes a springboard for thematic invention and fantasy, as well as for metaphorical commentary. It becomes a reflection of the spirit of the time artists are living in."

Cleveland Museum of Art
11150 East Blvd., Cleveland 44106
216/421-7350, clevelandart.org
Hours: Tues., Thur., Sat. & Sun. 10 a.m.–5 p.m., Wed. & Fri. 10 a.m.–9 p.m.
Admission: Adults $18, students over 17 and seniors over 60 $16, children 6–17 $9