Arts
Artistic Blueprint
The Columbus Museum of Art highlights works by Thomas Cole, a painter who went on to become one of the architects of the Ohio Statehouse.
January 2017 Issue
BY Linda Feagler | Art courtesy of Metropolitan Museum of Art
January 2017 Issue
BY Linda Feagler | Art courtesy of Metropolitan Museum of Art
Amid the paintings of classical ruins and uncharted wilderness on display in the Columbus Museum of Art's tribute to artist Thomas Cole is a beige rendering that has become a favorite with visitors.
"Elevation of the Ohio Statehouse," Cole's 1838 graphite diagram of our then-future capitol, contains detailed notations for where each Doric column should be placed, as well as a sketch of the Greek revival façade that graces the building today.
"When Cole created the plan, no doubt he was thinking about the fact that we were a young nation and was comparing our country to the system of government that harkened back to ancient Greece," says Columbus Museum of Art curator-at-large Carole Genshaft. "He wanted our statehouse to be the ideal symbol of a democratic country in the process of forging its own identity."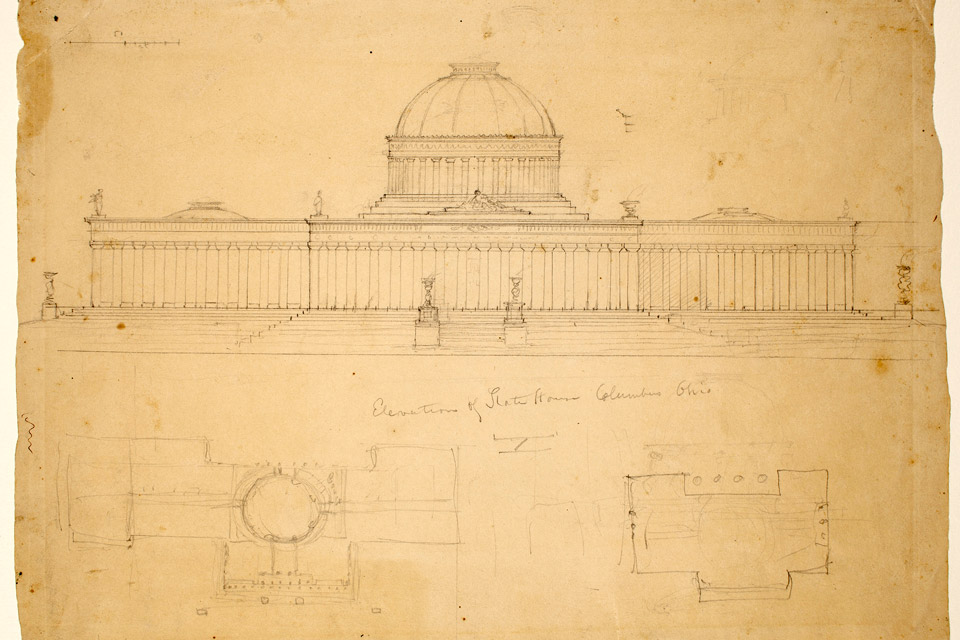 "Thomas Cole: The Artist as Architect" is on display at the Columbus Museum of Art through Feb. 12. Organized by the Thomas Cole National Historic Site in Catskill, New York, the exhibition showcases key facets of Cole's career, ranging from magnificent 19th-century oil paintings to examples of his architectural vision.
"Many Ohioans pass by the Statehouse all the time and probably don't think about how it got designed," Genshaft says. "Since Cole serendipitously had a hand in creating the look of it, the exhibit is a natural one for us."
***

Born in 1801 in Lancashire, England, Cole immigrated to the United States with his family when he was 18 and settled in Steubenville, Ohio, where he worked in his father's wallpaper factory before heading to Philadelphia to pursue a career in art.
After relocating to New York City in 1825, Cole became smitten with the pristine terrain filling the Hudson River Valley and moved there the following year. He's credited with being the founder of the Hudson River School, an American art movement comprised of painters who embraced the romanticism of panoramic vistas. Devotees included landscape artists Albert Bierstadt, Jasper Cropsey, Frederic Church and Asher B. Durand. A portrait of Cole that Durand completed in 1838 is displayed in the Columbus Museum of Art exhibition.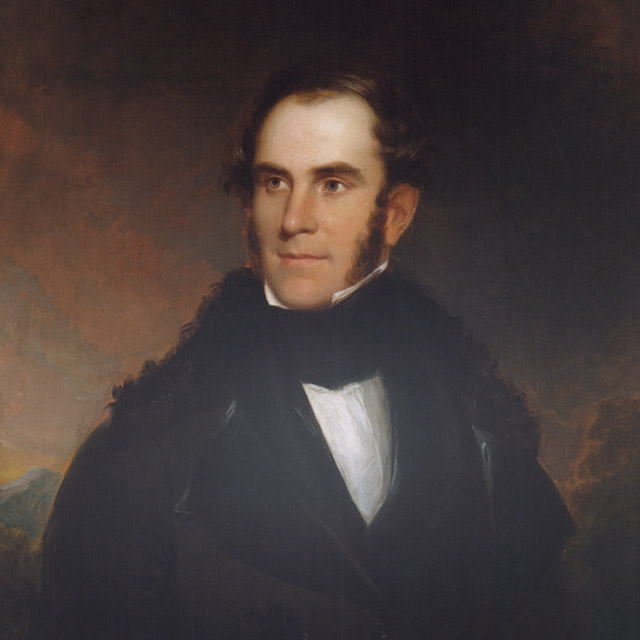 "The artists who were part of the Hudson River School were really the first to create an American style of painting," Genshaft says. "Before the movement came into existence, we had an inferiority complex. We didn't have the 'Mona Lisa.' We didn't have Shakespeare. We didn't have the Parthenon. But when Cole took his trip up the Hudson, he was absolutely awestruck by the fabulous landscape he saw and the wildness of it."
Cole's paintings from the 1830s on, however, reveal a burgeoning interest in architecture that was sparked during his first trip to Europe in 1829. Like many 18th- and 19th-century artists, Cole was captivated by the Italian town of Tivoli, located 20 miles from Rome and known for its ancient and medieval ruins.
In the catalog accompanying the Columbus Museum of Art exhibition, Louis Legrand Noble, who authored an 1856 biography about Cole, is quoted as describing the artist's time in Italy as epiphanic: "In the crumbling ruins, beneath the mantle of the seasons, lay the bones of an empire." It was that realization of permanence that led Cole to bill himself as an architect when he returned to New York in 1832 — despite the fact he had not designed a single building.
"Back in those days, there were no architecture schools and no architectural licensing," Genshaft says. "If you wanted to become an architect, you either went to Europe and studied or you practiced with an architectural firm."
Cole did neither. Instead, he copiously studied pattern books describing architectural styles through the ages. His early paintings included buildings that were mostly embedded in lush landscapes, says Genshaft, citing "View of Monte Video, the Seat of Daniel Wadsworth, Esq.," which the artist completed in 1828.
"Contrast that with 'The Van Rensselaer Manor House,' finished a decade later, and you'll see how Cole's perspective has changed," she says. "The house, not the land, is now pictured more prominently."
It was a shift that would ultimately define the artist's later work.
***
On Jan. 26, 1838, the Ohio General Assembly voted to build a state capitol, and a notice went out inviting architects in Philadelphia, New York and Washington, D.C., to submit plans. Cole was one of more than 50 designers who did so.
His neo-Greek motif was adopted, and construction commenced on July 4, 1839. The project was fraught with challenges, ranging from squabbles over money to bickering over design.
Twenty-two years after the start of construction, the Ohio Statehouse opened on Nov. 15, 1861, 13 years after Cole's death. The second-largest public building in the country next to the U.S. Capitol at the time, it cost $1,358,121.45 to construct, almost three times the original estimate. Cole biographer Noble posthumously praised Cole's acuity, proclaiming that the Statehouse "raises architecture from a mere science to an art."
***
A few months before the Ohio Statehouse cornerstone was laid, noted American architect Ithiel Town commissioned Cole to create a painting for him. Although a copy of a note from Cole to Town penned on March 6, 1839, confirms the artist would receive "books and engravings the amount of $225.25 towards paying for the picture which I am to paint of the value of $500 … ," there appears to have been no discussion about what it would look like.

"The Architect's Dream," completed in 1840, is a kaleidoscopic homage to Western architecture. The buildings encircling a sun-dappled lagoon seamlessly integrate landscapes and cityscapes. Although meant to represent styles rather than specific structures, the Greek temples Cole depicts bear a striking resemblance to the Ohio Statehouse.
Town, who commissioned the painting, didn't like it. He criticized the architecture as being too large and the landscape too inconsequential and refused to buy it. But the painting did ultimately find an appreciative home. When the Columbus Museum of Art exhibition concludes next month, "The Architect's Dream" will return to the Toledo Museum of Art, where it's been part of the permanent collection since 1949.
"Cole spoke reverently of the history of the architecture he depicted in this painting," Genshaft says. "He saw the styles he loved as opening the world beyond which we dwell into something that is lofty, aspiring and mysterious."

Columbus Museum of Art
480 E. Broad St., Columbus 43215
614/221-6801, columbusmuseum.org
Hours: Tues.–Sun. 10 a.m.–5 p.m., Thur. 10 a.m.–9 p.m.
Admission: Adults $14, students over 18 and seniors over 60 $8, students $5. Free on Sun.