Arts
American Dreams
The Maltz Museum of Jewish Heritage examines how immigrants and minorities embraced baseball as a way to fit into society.
June 2015 Issue
BY Linda Feagler | Photo Donated by Corbis
June 2015 Issue
BY Linda Feagler | Photo Donated by Corbis
Revered as one of the premier power hitters of his generation, Hank Greenberg dominated baseball for more than a decade. "Hammerin' Hank" led the American League in home runs and runs-batted-in four times, made the All-Star team on five occasions and was voted Most Valuable Player in 1935 and 1940.

The slugging first baseman also led the Detroit Tigers to four World Series appearances, including championships in 1935 and 1945, and he was elected to the National Baseball Hall of Fame in 1956.

But the success came with struggle. Greenberg was Jewish.

"Our country was a hotbed of anti-Semitism," says Ivy Weingram, associate curator of the National Museum of American Jewish History in Philadelphia. "Can you imagine what it must have been like for him to endure all the hateful slurs he heard when he stepped up to the plate?"

Through Sept. 7, the Maltz Museum of Jewish Heritage in Beachwood is hosting "Chasing Dreams: Baseball & Becoming American," an exhibition exploring the relationship between culture, race, identity and our national pastime.

Organized by the National Museum of American Jewish History, it recounts the story of how immigrants and minorities — including Italians, Asians, Latinos, African-Americans and Jews — viewed embracing and playing baseball as a way to fit into 20th-century American society. More than 140 artifacts, including game-worn jerseys, autographed baseballs and photos of Joe DiMaggio, Jackie Robinson, Hank Aaron, Ichiro Suzuki and other baseball greats, offer a portrait of tenacity and accomplishment in the face of adversity.

Weingram, who curated the exhibit, says the idea was sparked after she watched "Jews and Baseball: An American Love Story," a 2010 documentary that examined the connection between the sport and the American Dream.

"There are values in baseball that are all-American," she says. "There's the idea of teamwork and sportsmanship. There's also a humanity to baseball not present in other sports. Unlike basketball or football or soccer, where the ball does the scoring, in baseball a human being has to round the bases and ultimately touch home to score for their team.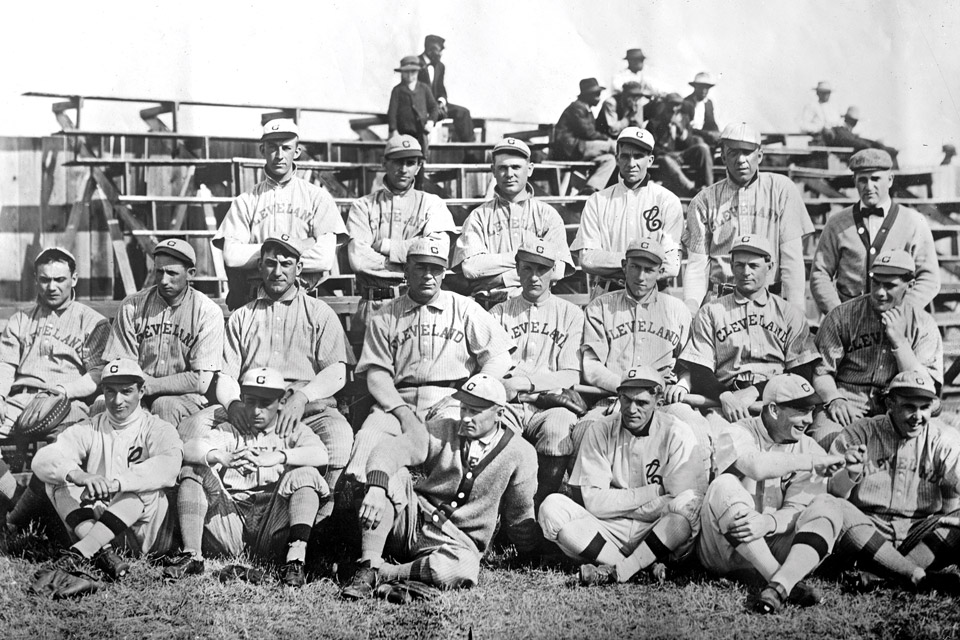 "It's the game," Weingram adds, "that served as a way for immigrants and minority communities to understand and then be part of the culture they found themselves in."

A mostly male pursuit throughout the 19th century, baseball was usually played by those born here. When Cincinnati became the home of the Red Stockings — the first club to openly employ professional players — members of the city's Jewish community started following the sport and joined amateur teams. Participants included Rudolph Kalish, who played third base for the Queen City's Live Oak club in 1870, an amateur team that lost twice to the Red Stockings.

But many immigrants from eastern and central Europe, who began coming to America en masse during the early 20th century, had little familiarity with the sport. In fact, some disparaged the game, seeing it as a distraction that took their children away from work and study.

A 1903 article published in the Jewish Daily Forward disputed that conviction. In it, the editor advised immigrant fathers to let their sons play baseball because "in a healthy body lives a healthy mind. … Let us not raise the children to grow up foreigners in their own birthplace."

Soon, baseball was taught in schools and settlement houses so youngsters would learn the values associated with this quintessentially American activity. But the lessons weren't limited to males. Ida Schnall, a Jewish immigrant from Austria, formed the New York Female Giants. A 1913 photo in "Chasing Dreams" showcases her fresh-faced players, who were divided into squads that competed against each other.

Slowly, the sport's popularity gained momentum. "Take Me Out to the Ball Game," penned in 1908 by vaudeville entertainer Jack Norworth and composer Albert Von Tilzer, became the third most recognizable song behind "Happy Birthday" and "The Star-Spangled Banner."

Budding entrepreneurs also found opportunities: A display case honors Esther Schimmel, a St. Louis resident who sold all-beef hot dogs in the 1940s at her concession stand located next to Sportsman's Park where the Cardinals played. True to her Jewish heritage, Schimmel did not work on the Sabbath and would not touch the nonkosher franks with her bare hands, which explains the presence of the fork she's holding.

Over the years, Hank Greenberg became an American icon off the field as well as on. He served in the military during World War II, missing the 1942, 1943 and 1944 baseball seasons. Greenberg also paved the way for other Jewish players, including Dodgers pitcher Sandy Koufax and Indians infielder Al Rosen. His Detroit Tigers road jersey and military ID card are focal points of the exhibition.

"What is it about baseball that captures the imagination? I think it's the fact that the game dominated the American sports scene for so long," says baseball historian Morris Eckhouse. "It wasn't until the 1950s that professional football started its rise to what it has become, and it's only been in the last several decades that professional basketball has risen in the ranks. But baseball goes back, back, back in time. It traces the ethnic history of our country."

Eckhouse, the former executive director of the Society of American Baseball Research, currently administers Cleveland's Baseball Heritage Museum. Located at League Park, where the Indians played through 1946, the museum spotlights the rich history of diversity in baseball, showcasing the important contributions made by players from the Latin and Caribbean leagues, the Industrial and Barnstormer leagues and the Negro and Women's leagues. Items from the museum are featured in the Maltz exhibition.

Although Eckhouse's passion for the game began when he was a youngster growing up in Shaker Heights, he's quick to add that visitors to "Chasing Dreams" don't have to be fervent fans to appreciate the history it's filled with.

"There's something for everyone," he says. "Diehards are going to be re-engaged in and, if necessary, re-energized for, their love for the game. And those who are new to baseball will learn why the sport is so important and why generation after generation has handed it down to us."

Maltz Museum of Jewish Heritage
2929 Richmond Rd., Beachwood 44122, 216/593-0575, maltzmuseum.org
Hours: Tues., Thur., Fri. & Sun. 11 a.m.–5 p.m., Wed. 11 a.m.–9 p.m., Sat. noon–5 p.m.
Admission: Adults $12, students over 12 and seniors over 60 $10, youth 5–11 $5


***
Major League Milestones
Throughout the decades following Hank Greenberg's debut, professional baseball continued to break barriers:
1947:
Jackie Robinson plays for the Brooklyn Dodgers on April 15. When Larry Doby takes the field for the Cleveland Indians three months later, both leagues are racially integrated.
1975:
Frank Robinson, player-manager with the Cleveland Indians, becomes the first African-American manager of a Major League Baseball team.
1995:
Los Angeles Dodgers pitcher Hideo Nomo is named National League Rookie of the Year, the first Japanese player to win a Major League Baseball award.
2000:
Ichiro Suzuki is the first Japanese-born everyday position player to sign with a major league team, the Seattle Mariners. Concession stands at Seattle's Safeco Field introduce "Ichiroll" sushi in his honor.
2011:
Justine Siegal is the first woman to pitch batting practice for a major league team, the Cleveland Indians. She later repeats that role for the A's, Rays, Cardinals, Mets and Astros.