Arts
A Very Dickens Christmas
Here are four fun ways to celebrate one of the Victorian era's greatest novelists.
December 2015 Issue
BY Linda Feagler | Photo courtesy of Great Lakes Theater
December 2015 Issue
BY Linda Feagler | Photo courtesy of Great Lakes Theater
Scrooge Says …
Actor Aled Davies shares what he's learned from portraying Charles Dickens' most famous character.

Aled Davies has performed the role of Ebenezer Scrooge in Great Lakes Theater's production of "A Christmas Carol" for the past seven years. Because each season spans 30 performances, and he says "Bah! Humbug!" a dozen times a show, we wondered how often he's uttered Scrooge's expression of Yuletide disgust on stage. "It sounds like one of those complex math problems," Davies says with a laugh as he marvels at the answer: 2,520 times. We caught up with the 62-year-old actor as he prepared for his eighth season as Scrooge and asked him to share what portraying literature's most famous curmudgeon has taught him.

It seems pretty simple from the outside, but "A Christmas Carol" is pretty damn challenging from the inside. I'm in real time and real space, but I'm supposed to be portraying somebody who is taken into different dimensions. … I have no idea what it would be like to actually see my own past. And I certainly have no idea what it would be like to have ghosts visit me. So, I must maintain a sense of belief about certain things that are way in excess of regular drama.

I like to point out to people who have not read the story that Scrooge has a good reason to despise Christmas. … [In the book] you see Scrooge's childhood, how he was sent away to school, and how the one Christmas he is taken home by his sister he is then sent away to work in a warehouse, which necessitated him becoming a man at a young age. And then, there's the failure of his engagement on Christmas Day. Life has beaten Scrooge into a shell. … Unfortunately, he's gone so far in that direction that he's lost his humanity and he's lost to himself.

Come what may, Scrooge needs to be redeemed, so it doesn't matter what garbage I have going on in my own life, or how rainy it was outside or how bad the drive in the snow was. I've got to somehow approach the story with at least enough openness that an audience can believe that I'm being redeemed.

Although I'm pretty Scrooge-like in my own life — cast members have given me the nickname Sir-mudgeon — I do have a sense of pride in doing the play. As I tell members of the cast: When other people are enjoying the buildup to Christmas, we are actually working to enhance their holidays. That brings us comfort.

"A Christmas Carol" is at Cleveland's Ohio Theatre through Dec. 23. For more information, visit greatlakestheater.org. For our guide to other productions of the classic, visit ohiomagazine.com/scrooge.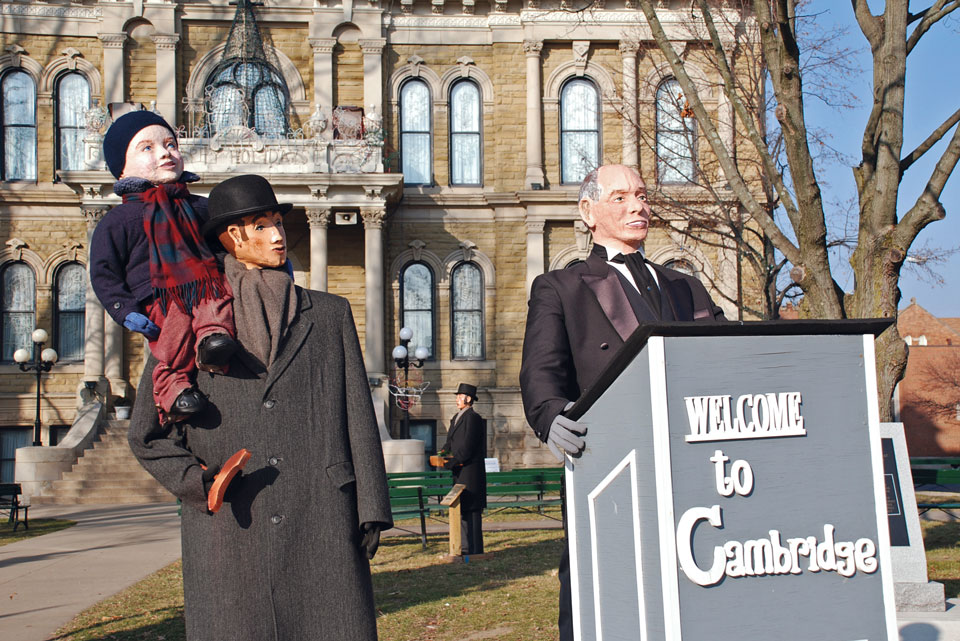 Turning Back Time
Every holiday season, Cambridge transforms its downtown with scenes that reflect the era in which Charles Dickens lived.

The idea came to Cambridge resident Bob Ley as he and his wife, Sue, pulled into the line of cars snaking into Oglebay Resort & Conference Center. Like countless other visitors, the couple had driven to the West Virginia vacation spot to see its renowned winter lighting display.

"I looked at all the people at Oglebay and wondered what we could do to attract them to Cambridge in winter," says Ley, 72, who has lived in the southeast Ohio town for 52 years. Inspired by his mother's English heritage and Sue's love of

Charles Dickens' stories, the acrylic painter created a series of sketches depicting favorite scenes from A Christmas Carol, and he shared his idea of working with local businesses to transform Cambridge into a Victorian hamlet during the holidays. Soon, more than 200 volunteers were on board to fashion life-size mannequins from wood, clay, Styrofoam and Bubble Wrap according to Ley's specifications.
"In my wildest dreams, I never thought the event would grow this big or last this long," he says. As Dickens Victorian Village celebrates its 10th anniversary, the initial collection of 40 mannequins has grown to 186. Figures include 19th-century lamplighters, street peddlers, carolers and characters from Dickens' celebrated tale.
To add to the ambiance, the Guernsey County Courthouse illuminates the night with thousands of lights timed to pulsate to the beat of holiday music, and guests are invited to have their photo taken in period clothing and ride in a horse-drawn carriage.
"Many places have Dickens-themed weekends, but our celebration continues for two months," Ley says. "There's nothing like Dickens Victorian Village that we've been able to find anywhere."

Downtown Cambridge's Dickens Victorian Village runs through Jan. 2. For more information, visit dickensvictorianvillage.com.


Feast for the Senses
Here's why the Ohio History Center's annual Dickens Dinners are such a hot ticket.

It's too late to join the fun this year, but those interested in a meal akin to what Charles Dickens himself would have enjoyed should keep an eye out for the October 2016 on-sale date for the Ohio History Center's annual Dickens Dinners. Tickets for the evenings, which include a four-course meal, are snapped up in days. Mike Follin, the Columbus history center's coordinator of interpretive services, explains why visitors relish celebrating the season in an authentically traditional way.
The Menu:
Although the bill of fare varies each year, it mostly stays true to what was served in the 1840s, the decade in which
A Christmas Carol
became a bestseller. This year's spread will feature Florentine white bean soup, arugula salad, blackberry balsamic chicken served with mashed russet potatoes with kale, a medley of French long beans and wax beans, and chocolate peppermint mousse parfait with a candy cane garnish. "The food we serve is not exactly period food," Follin says. "If we prepared the real deal, no one would want it because it would be very greasy, very fatty and undercooked."

The Atmosphere:
Meals are served in Ohio Village, the Ohio History Center's re-created 19th-century community. The American House Hotel dining room is decorated to reflect life in Charles Dickens' day: Pine roping adorns window frames and the fireplace, while a garland wreath and glowing kerosene lantern grace each table. Costumed servers deliver dishes and carolers stroll among the tables singing songs of the season. "As a historical interpreter, I have one foot in the present and one foot in the past," Follin says. "I act as a bridge between the two worlds, which allows visitors to take a trip back in time."
The Entertainment:
After dinner, guests can stroll Ohio Village, where the buildings host activities and events meant to evoke Christmas celebrations of the 19th century. "A visit to a Dickens Dinner is a very personal experience," Follin says. "That's probably one of the reasons they are so successful."

The dinners are sold out, but you can take part in Ohio Village's Dickens of a Christmas on Dec. 11, 12, 18 & 19 from 6–9 p.m. and Dec. 20 from noon–5 p.m. Visit ohiohistory.org/dickens for more information.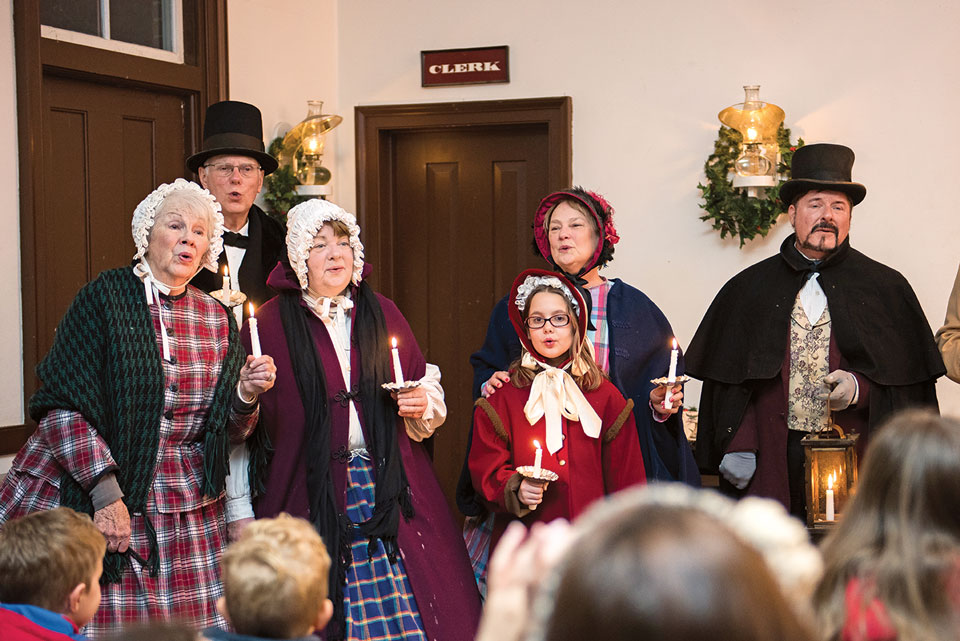 Holiday Cheers!
'Tis the season for Susan Brouillette to be in high spirits. As she has for the past 11 years, the public programs manager at the Ohio History Center is poring over the libations list she's preparing for Drinks of the 19th Century, taking place Dec. 3.
"We make some very interesting concoctions, the quirkier the better," Brouillette says, adding that for authenticity's sake she consults a variety of sources, including
How to Mix Drinks or the Bon-Vivant's Companion
, which was penned by bartender Jerry Thomas in 1862.
Guests receive samples of period drinks such as Dog's Nose (a "working-class man's drink made with gin and ale," Brouillette says) and Smoking Bishop, the refreshment mentioned at the conclusion of A Christmas Carol, when a reformed Ebenezer Scrooge offers to discuss his long-suffering employee Bob Cratchit's future over a bowl of the steaming brew.
This year's event is sold out, but Brouillette shared her Smoking Bishop recipe so you can mix up some Dickens-inspired holiday cheer at home.
For more information about the annual Drinks of the 19th Century event, call 800/686-1541 or visit ohiohistory.org.


Recipe: Smoking Bishop
Courtesy of Susan Brouillette
INGREDIENTS
6 oranges
1/2 cup sugar
6 dozen whole cloves
4 cups red wine
1 bottle ruby port
DIRECTIONS
Bake the oranges in a 350 F oven for about 20 minutes. Stick 12 cloves in each orange and put them in a large bowl. Pour the wine and port over the oranges and mix in sugar. Cover and leave in a warm place for 24 hours. Squeeze juice from the oranges into the wine mixture. Then, strain the wine mixture into a pan and heat until warm.