Arts
'A Mile and a Half of Lines: The Art of James Thurber'
A Columbus Museum of Art exhibition examines how native son James Thurber changed the face of American cartooning during the first half of the 20th century.
September 2019
BY Linda Feagler | Copyright 2019 by Rosemary A. Thurber, with permission from Barbara Hogenson Agency
September 2019
BY Linda Feagler | Copyright 2019 by Rosemary A. Thurber, with permission from Barbara Hogenson Agency
Looking back, Michael J. Rosen believes it was inevitable that his and James Thurber's paths would cross. Both were born and raised in Columbus, both attended The Ohio State University and both are known for appreciating a good laugh.

But Rosen, who is guest curating "A Mile and a Half of Lines: The Art of James Thurber" at the Columbus Museum of Art, adds that he wishes his appreciation for the writer and cartoonist had evolved sooner.

"Like so many people, there was a time I knew Thurber only as another American author who was funny," he says. "Although he was prolific during a relatively short span — from 1927 to 1941 — the more I learned, the more I realized he can be credited with changing the character of cartooning in America. He expanded what we now take for granted as short humor, whether it's David Sedaris' insights or line art in magazines. Nobody did that before Thurber."

Rosen's admiration for Thurber was sparked in the 1970s, while he was taking pre-med classes at Ohio State and sketching to relieve stress. After several of his drawings were published in The New Yorker and Gourmet, Rosen switched gears and earned a Master of Fine Arts degree in poetry from Columbia University.

Upon returning to Columbus to begin his career as an illustrator, he learned about and joined the effort to restore and turn the house Thurber and his family lived in from 1913 to 1917 into a literary center. That goal was realized in 1984, and Rosen served as director of Thurber House for two decades. He's also edited six volumes of Thurber's work, including Collected Fables, published in June.

"A Mile and a Half of Lines: The Art of James Thurber," on exhibit through March 15, celebrates the 125th anniversary of the humorist's birth. The title is taken from a Thurber quote: "If all the lines of what I've drawn were straightened out, they would reach a mile and a half. I drew just for relaxation, between writing."

Organized by Rosen and Columbus Museum of Art curator-at-large Carole Genshaft, the exhibition features more than 100 of Thurber's most recognizable drawings, including images he created for The New Yorker, advertising campaigns and books.

"I think what's so wonderful about his work is that he created a kind of Thurberland filled with unlikely juxtapositions," Genshaft says. "Up until his time, cartoons were much more finished, much more detailed, much more fine art-like. Thurber threw all that out the window. Whether you call them doodles or quick sketches, there's a wonderful spontaneity in these drawings that's endearing."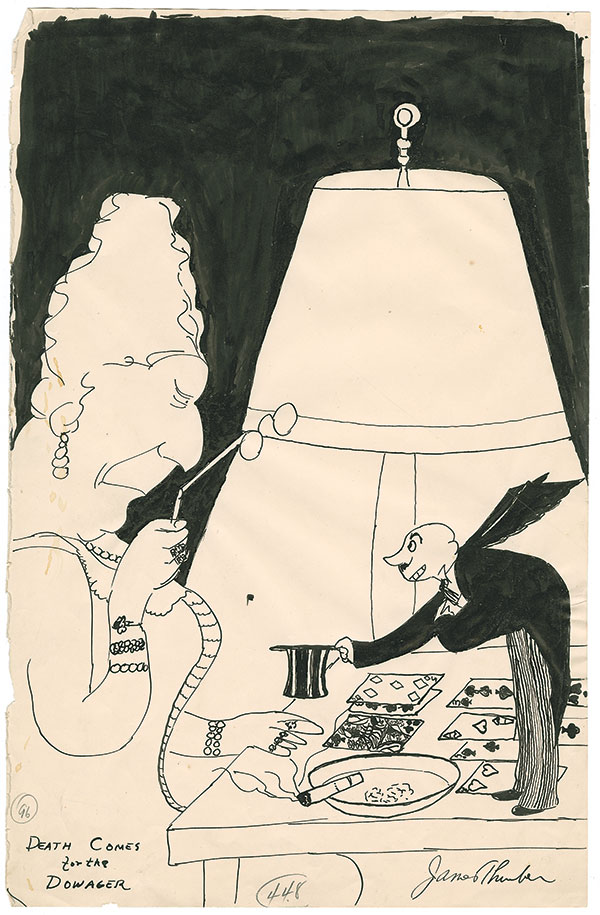 Born on Dec. 8, 1894, Thurber was a bookish child who spent much of his youth on the sidelines. At age 8, while playing a game of William Tell with his older brother, he sustained a severe injury when a toy arrow pierced and blinded his left eye. (Eventually, sympathetic ophthalmia overtook his right eye, leaving him legally blind by the time he was in his mid 50s.) To pass the time, Thurber immersed himself in word games and developed an affinity for dogs, which he featured in countless sketches.

"Thurber believed dogs are more adjusted in the animal kingdom than we are," Rosen says. "In his work, their choice of swiftness, sweetness or camouflage has worked out perfectly for them, whereas too many times we humans choose overthinking." He cites one of the images in the exhibition, Thurber's drawing in which "an automobilist, losing control of the wheel, crashes into the living room of a young father and mother" as an example.

"Like so many of us, Thurber was baffled by mechanical contrivances," Rosen says. "Over the years, the dogs he sketched symbolized a point of soundness in an unsound environment. This drawing, which was never published, mirrors the chaos Americans felt at the dawn of the Machine Age. Amid the centripetal zaniness that's going on around the family, the dog is at the center trying to hold ground with an expression that reflects the feeling of dread Thurber wants to convey."

Thurber attended Ohio State, but dropped out a few credits shy of graduation. Due to his blindness, he couldn't pass the required science courses that involved microscopic study. ("Instead of seeing a vivid, restless clockwork of plant cells," Thurber recalled in his autobiography, My Life and Hard Times, "[I saw] what looks like a lot of milk.") He also despised the university's mandatory military drills.

In 1926, after a stint as a reporter at The Columbus Dispatch, and jobs for the Chicago Tribune, Thurber sold his first story to The New Yorker and became a contributor.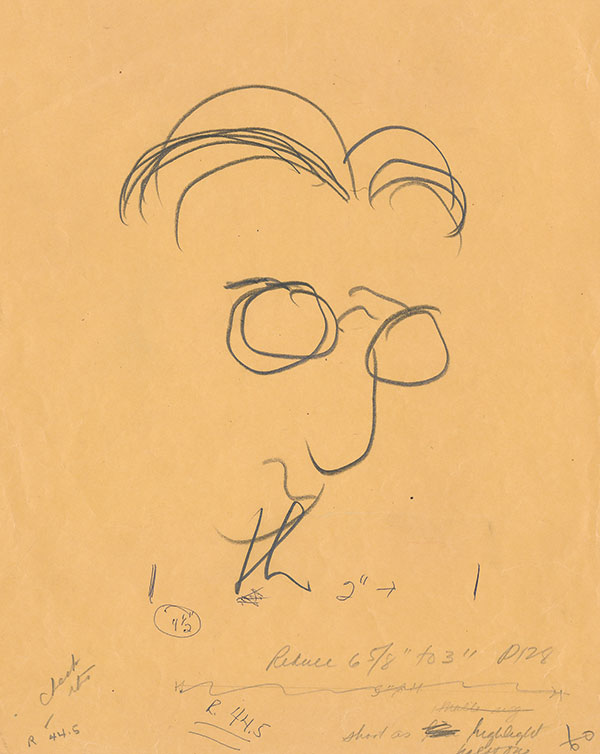 "More often than not, Thurber's subjects were relevant to what was going on around him," Rosen says. "The first decade of Thurber's work coincides with the Great Depression, approximately 1929 — 'the black memorable year,' as Thurber described it — to 1939. The exhibition highlights that whenever there's uneasiness and discomfort, humor has the power to let off some of the pressure."

A case in point is "Death Comes for the Dowager." In it, Thurber depicts a wealthy woman scrutinizing a winged Grim Reaper in the form of an elf-like creature in evening attire.
"Although we don't have an actual date for this drawing, which is one of the more carefully drawn pieces Thurber did, I imagine this is his take on the economic downturn that was sweeping the country," Rosen says. "Despite his growing success, he was not immune to the economics of the times."

Thurber's most popular stories and sketches document the universal battle between the sexes. At times, the male wins (as in the cartoon depicting the man telling the woman, "Sometimes the news from Washington forces me to the conclusion that your mother and your brother Ed are in charge.") In other instances, the female has the upper hand (as when an eager matron tells the male, a potential suitor, "If you can keep a secret, I'll tell you how my husband died.") Or the skirmish can end in a tie, as it does in "The Seal in the Bedroom," one of Rosen's favorites featured in the exhibition. In it, an overbearing female tells the miffed male, "All right, have it your way — you heard a seal bark!" She's totally oblivious to the mammal perched on the headboard above them.

"Thurber enjoyed presenting instances where people are taken off guard and arrested by the unexpected they didn't see coming," Rosen says. "It's a wellspring he dipped into quite often." Thurber's "No son of mine is going to stand there and tell me he's scared of the woods" in which a father lectures his offspring, unaware of what's emerging from the ground behind him, attests to the artist's quirky sense of humor.

"It's fun to give life to these drawings again and bring them to new audiences," Genshaft says. "Thurber's cartoons capture the timeless randomness and irrationality of life and are sure to bring a knowing smile to those who view them."

Columbus Museum of Art
480 E. Broad St., Columbus 43215, 614/221-6801, columbusmuseum.org
Hours: Tues.–Sun. 10 a.m.–5 p.m., Thur. 10 a.m.–9 p.m.
Admission: Adults $18, seniors, students and children 4 and older $9. Free on Sundays.