Arts
A Fresh Vision
The Cleveland Museum of Art's "Brand-New & Terrific: Alex Katz in the 1950s" showcases works created during the dawn of the artist's career.
June 2017 Issue
BY Linda Feagler | Artwork courtesy of Cleveland Museum of Art
June 2017 Issue
BY Linda Feagler | Artwork courtesy of Cleveland Museum of Art
Amid the Mark Rothkos and Andy Warhols hanging in the Cleveland Museum of Art's Contemporary Gallery is an image that Mark Cole, the museum's curator of American painting and sculpture, has been drawn to for decades. Created by American figurative painter Alex Katz in 1968, "Impala" depicts the artist's wife in the family car.
"It's pretty hard to miss," Cole says of the 72-by-109-inch canvas. "The subject matter is quite wonderful. It's a side view of Ada sitting in the passenger seat of their Chevy Impala with the landscape in the background. I love the fact that the painting is from the driver's perspective. Anyone who has ever been behind the wheel of a car can relate to those moments when you've taken a quick glimpse of the person sitting next to you whom you're having a conversation with or admire."
"Impala" grabbed Cole's attention during his first trip to the museum, which he made with his parents from their home in Elyria while he was in junior high school. With each subsequent visit, he became increasingly fascinated with the piece, as well as with the subjects of art and art history. After majoring in chemistry at John Carroll University, Cole went on to earn a Master of Arts degree in art history and museum studies from Case Western Reserve University and a Ph.D. from the University of Delaware, specializing in the history of American art.
Since joining the Cleveland Museum of Art staff in 2005, Cole's admiration for Katz's work has not cooled, as evidenced by his enthusiasm for "Brand-New & Terrific: Alex Katz in the 1950s." On display through Aug. 6, the exhibition features 90 oil paintings, paper collages and woodcuts the New York-born artist completed during the dawn of his career. (The show's title is derived from an early manifesto Katz made declaring his intention to put a new spin on traditional subject matter.)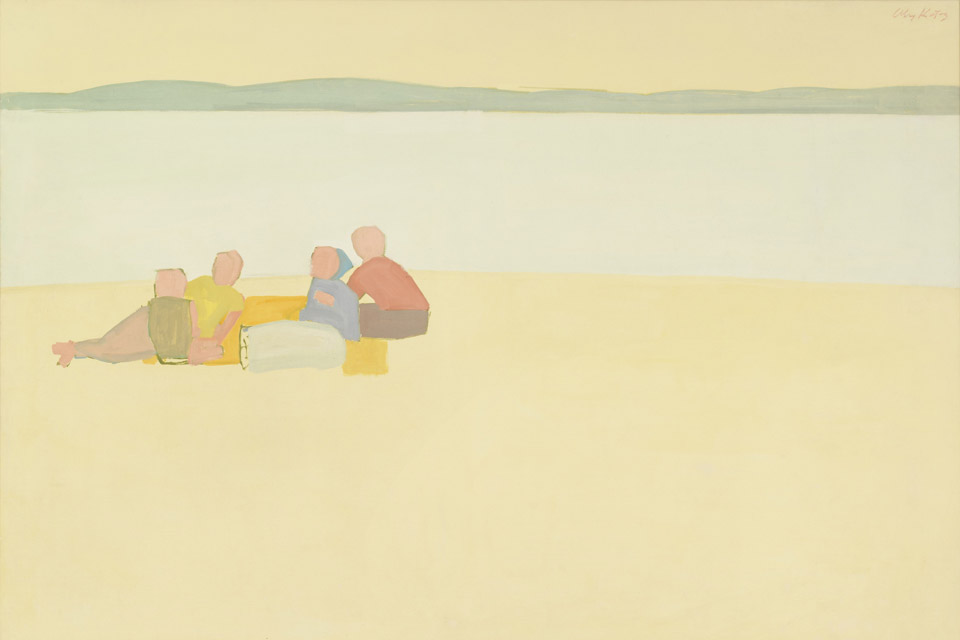 "I look at the work Katz did during the 1950s, and I'm astonished at all the major innovations he launched in what would be a really important decade for him," Cole says.
To complement the exhibit — organized by the Colby College Museum of Art in Waterville, Maine — seven Katz works from the Cleveland Museum of Art's collection, including "Impala," will be showcased.
Born to Russian immigrants in 1927 in Brooklyn, New York, Katz came of age following World War II — the time when abstract expressionism dominated the art scene. Painters who embraced the movement avoided the realist forms of landscape and portraiture that had been popular for the last century. Instead, they plumbed the depths of their psyche, and the result was free, spontaneous forms mirroring mood and emotion.
"Following the war, realist painting was considered a bit too traditional and a little old-fashioned," Cole says. "Abstract expressionists were grabbing the headlines."
Katz, who had studied art at Maine's Skowhegan School of Painting and Sculpture and at The Cooper Union for the Advancement of Science and Art in New York, eschewed the eclectic subject matter abstract expressionism embodied. He opted to incorporate the monumental scale, stark composition and dramatic use of color inherent in the movement to create his own interpretation of art the public could readily identify with.
One of the earliest works in the show, "Four People," which Katz completed in 1954, demonstrates his use of black and white photographs as inspiration for creating a bridge between past and present. The artist gifted the painting to the Cleveland Museum of Art in 1991.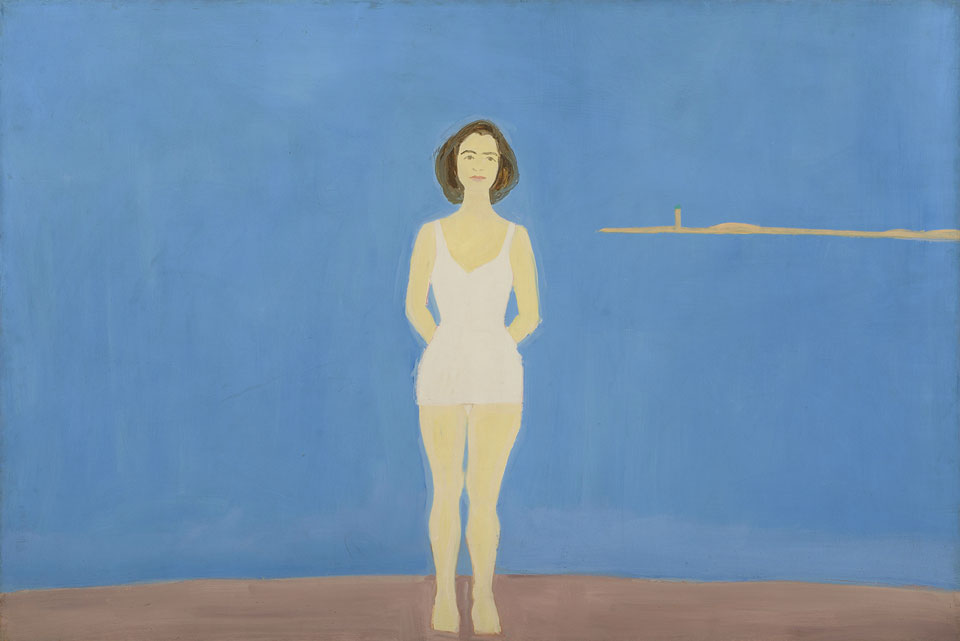 "Katz would look at amateur pictures that family and friends would put in their photo albums," Cole says. "He'd analyze their visual cues and then translate what he was learning about in the photographs into color paintings, paying attention to how patterns developed. Here, we have an image of four people. But what I find so interesting is that, in an abstract way, many of the details including facial expressions have been omitted. Clearly, the artist is more interested in emphasizing design and placement of color and shape than he is in making an exact copy of all the photograph had recorded."
Although Katz did not paint abstract images, he did incorporate bursts of sweeping brushstrokes into many of his canvases. The curator cites "Goldenrod," which the artist completed in 1955, as an example of Katz's brilliant use of gestural form.
"At first glance, you could think this is an abstract expressionist painting," Cole says. "But if you look again more carefully, you can see it's actually a figurative painting and that it is, in fact, goldenrod. You see the stems of the plant and the brushstrokes are the flowers themselves. This is Katz's ingenious way of taking a cue from abstraction but tethering it to the real world."
In the mid-1950s, the artist began spending summers in Lincolnville, Maine. After a day painting outdoor landscapes, he'd unwind by crafting paper collages at his kitchen table. Katz would deftly cut various shapes from hand-colored or commercially prepared construction paper, then paste them on paper to fashion a composition.

Cole cites "Wildflowers in Vase," a collage Katz finished in 1955, as an example of the use of flat color and crisp edges that would become a hallmark in the artist's later oil paintings.
"Although 'Lincolnville Beach,' which Katz completed the next year, is an oil painting," Cole says, "it resembles a collage in that the shapes that make up the painting are quite simple and look as if they could have been cut out from paper."
Now 89, Katz continues to divide his time between painting in Maine and working from the artists' cooperative in Manhattan where he's lived since 1968. In addition to landscapes and portraits, the artist has designed sets and costumes for choreographer Paul Taylor.
"Alex Katz is a shining example of a young and thoughtful, but also very ambitious, talent who followed his own artistic vision, despite critics telling him not to," Cole says. "He believed in himself and his dream came true."

Cleveland Museum of Art
11150 East Blvd., Cleveland 44106
216/421-7350, clevelandart.org
Hours: Tues., Thur., Sat. & Sun. 10 a.m.–5 p.m., Wed. & Fri. 10 a.m.–9 p.m.
Admission: Adults $12, seniors and college students $10, children 6–17 $6, 5 and under free.